Article by Duane Shimogawa
Friday, September 13, 2013
Consistency pays off when housing market heats up
Anne Oliver stays in front of the pack by making sure her clients get the best deals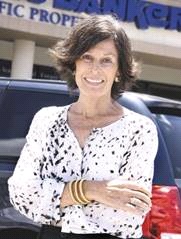 Anne Oliver, vice president of Coldwell Banker Pacific Properties, says she makes no apologies for putting her real estate business atop her list of priorities.
In the midst of Hawaii's red-hot residential real estate market, Anne Oliver is among the leaders of the pack.
So far this year, she has closed three sales of $12 million, $10 million and $8 million, respectively, and is among the top five in total sales on Oahu.
The recent success is not unusual for Oliver, a Realtor and vice president at Coldwell Banker Pacific Properties, who works out of the Kahala office. Since joining the agency more than a decade ago, she has consistently ranked in the top 2 percent of its agents.
Her colleagues say the key to her success is her commitment to her clients, many of whom are buying and selling luxury real estate.
"Anne is critical to Coldwell Banker Pacific Properties," said President Mike James. "She helps us control the higher-end market and she has an incredible network of clients and is really loyal to Coldwell Banker, and we certainly would miss her if she wasn't with us."
James said Oliver has energy and drive that her clients appreciate.
"They comment consistently on her attention to details and pursuit of their interest," he said. "She does an amazing job for her clients, and that has allowed her to build this great network."
James said, for example, that Oliver, who is part of Coldwell Banker's "Previews International" luxury division, would pull out of a deal if it wasn't right for her clients.
"She will certainly give them the advice that they need to hear," he said.
Oliver, a Boston University graduate, believes that the key to her success is creating a system that enables her to maintain focus on her clients and being available to respond to their needs.
"My secret weapon is my assistant, Lindsey [Fujimoto], who facilitates all elements of my business behind the scenes, allowing me to focus on my clients, my listings and the constant changes in the marketplace," Oliver said.
Consistency, she says, is the most important trait for a successful real estate broker. At the same time, she hopes to change people's perceptions of her as a specialist only in the high-end real estate market.
"Most people perceive me as a high-end luxury broker because I have been active in this segment of the market for many years," she said. "The reality is that I handle all property price points with equal intensity, but I don't think I have delivered this message effectively [and] need to change that."
Like many others in the real estate business, Oliver says she struggles with the challenge of balancing work and lifestyle.
"My business is a top priority, and I have stopped apologizing," she said. "My idea of a perfect vacation is to be with my three best friends — my husband, my iPad and my iPhone."
Oliver also considers securing new listings as a challenge not only for her, but for the entire brokerage community, mainly because inventory levels are so dismal.
"Potential sellers perceive that the best is yet to come," she said. "The reality is that unsatisfied buyer demand is a great opportunity for owners to achieve record results. Getting that message across effectively is the current challenge."
http://www.bizjournals.com/pacific/print-edition/2013/09/13/consistency-pays-off-when-housing.html?page=all